Prabhakar Betrabet: The Better Bet
DISCOVERING GURUJI
By the time I had met Guruji in 1998, I had been learning Tabla for about two years from my first teacher, Shri Shantiswaroop Sharma of Moradabad, and I was playing a little bit of Teentaal, Ektaal and Pancham Sawari. Guruji began teaching me with the first Teentaal Qaida that everyone learns in Tabla
DHA   DHA   TI   TA   DHA   DHA   TU   NA
Surprisingly, it didn't sound good from my hands at all, no matter how hard I tried! A few classes later, to my utter amazement, I saw a little 7-year old boy playing the same with total clarity and consistency! That is when I realized that proper hand position was a basic requirement for good sound production.
Guruji would sit with me, taking practice of only this Qaida for extended periods of time. I would wonder when he would teach me my next lesson. In the following months, I realized that every time I showed clarity in my playing with greater tonal quality and weight, Guruji would immediately reward me with more lessons. Ultimately, I was convinced that my progress was solely in my hands.
THE CAPABLE TEACHER
Over the years through observation and experience, I have discovered many wondrous qualities of Guruji. It is a unique experience watching him teach his students in the class. The skills of an expert salesman whose career spanned nearly four decades are on full display as he makes the twinkle-eyed wonders sitting in front of him believe they are the best. I have seen him cater to students of every personality type including the Shy, the Lazy, the Indifferent, the Loud, the Smart and the Hardworking among others.
The new entrants to the class sit in awe of the authority in his baritone voice. Students who have been with him slightly longer have guessed that behind that deep voice probably lies a soft heart and are figuring out all the little liberties they can take without getting into trouble. The even more senior students have learnt that there are really no limits.
While one might wonder how this is effective at all, it, in fact, turns out to be Guruji's strength. He makes the students work and discover what they are capable of on their own. That realization stays with them longer than anything anyone can ever teach them. Every student's Tabla thus becomes a reflection of their individual personalities.
THE BEGINNINGS
Guruji was born in Chennai as the world prepared to welcome World War II. One among seven siblings including the famed Ghazal and Bhajan singer, Smt Shyamala Halady, and famed flute player and disciple of Pt Bholanath of Allahabad, Shri Raghuveer Betrabet, Guruji was deeply attracted to Tabla. In those days, All India Radio (AIR) often broadcast Tabla solo performances of famous artists including the legendary Ustad Shaik Dawood Saheb of Hyderabad which left an indelible imprint on his mind. Guruji began his journey in Tabla with Pt Krishnanand and Pt Dasappa in Chennai. In 1959, he became a Gandabandh disciple of Ustad Shaik Dawood. The travelling job and constant relocation always kept him away from Hyderabad, but he would strive to go to his Guru for intensive training, often in stretches of three to four weeks.
ON TO TEACHING
Guruji is very fond of Henry Ford's quote
Anyone who stops learning is old, whether at twenty or eighty. Anyone who keeps learning stays young. The greatest thing in life is to keep your mind young.
With this message ingrained into his mind and soul, at the age of fifty-six, Guruji became the Gandabandh disciple of Ustad Shabbir Nisar, son of Ustad Shaik Dawood, to continue his learning. His hectic career had kept him away from all musical activities in Bangalore for almost twenty-five years and once he was ready to dive back into it, he found that gaining entry into the music circles had become very difficult. Local performers had their own set of accompanists and performing opportunities were hard to come by. Given his inclination for teaching, he started his Tabla classes. Initially, students came in small numbers but as word of his dedication and knowledge spread, more and more joined under him. Today most of his students have successful careers and they share him as a common thread in their lives. Having joined him during that time myself, I have had the privilege to know many of these students firsthand, watch, learn and play alongside them in the class. His wife, our Guruma Smt Padma Betrabet, continuously supported his efforts, taking care of us lovingly through the long hours of Riyaz and learning. Three students from this time have gone on to become Gandabandh disciples of Ustad Shabbir Nisar. I did not realize then that this period of time would become instrumental in shaping Guruji's teaching methodology.
ASSOCIATION
Guruji personally supervised my Riyaz for hours every day and allowed me the opportunity to meet and interact with artists who would be visiting. I have had the opportunity to interact with many artists including Ustad Shabbir Nisar, Pt Ram Jadhav, Shri Uday Kumar and Shri Jeevan Kulkarni.  Incidentally, I also had the privilege of meeting eminent Tabla maestros such as Pt Omkar Gulwady and Pt Yogesh Samsi among others who visited the Guruji's class and taking guidance from them. As his students, we also had the benefit of association with Guruji's close friends, relatives and eminent maestros including Pt Sadanand Naimpalli, Pt Gourang Kodical and Pt Gurunandan Kallianpur.
A GLIMPSE INTO HIS TEACHING METHODS
When the students are very young, Guruji understands that kids are still under the strong influence of their parents and in particular, their mother. Therefore, he asks the parents to observe the lessons in class with the kids and supervise their practice at home such that many of the parents can recite the Tabla bols. This was demonstrated wonderfully when Guruji gave the "Tabla Guard of Honor" to the His Holiness Shri Sadyojat Shankarashram Swamiji at the Shri Chitrapur Math in Bangalore. A Guard of Honor is a ceremonial event practice in the military and sports signifying respect. The students sat in two rows playing material that was recited in unison by their accompanying mothers, sisters or spouse.
Guruji observed that beginners in Tabla took almost three or four times longer than beginners in vocal music to become stage-worthy. As a result, many students from his class who had siblings in vocal classes would be unable to accompany them for many years. This was particularly disheartening for parents who wished to see both their kids performing on stage. The vocal teachers were not very encouraging either. To solve this situation, Guruji started giving the "Tabla Ensemble" performances with student participants aged from single digits to septuagenarians! Such ensembles performances in their early stages of learning had a very positive impact on the students. Typical ensemble performances included solo repertoire as well as accompaniment for songs rendered by siblings of the students.
RECOGNITION
Many students from Guruji's class including Mihir Kallianpur, Prithvish Kumble, Uttara Nadkarni and myself went on to become awardees of prestigious scholarships such as  Sur Sagar. About four years after joining Guruji, on the initiative of my uncle and Guru Pt Mohan Balvalli, I took part in the All-India Tabla Competition held at Sharda Sangeet Vidyalaya (Bandra) and won the first prize. I also received the Dadar Matunga Cultural scholarship for Tabla. These instances validated Guruji's teaching methodology and gave a strong boost to his thought processes. This was according to Guruji one of his proudest moments as a teacher.
Kala Vibhag (Kanara Saraswat Association) recognized his contributions as a Tabla Guru and showcased him with his students in their publication. He was felicitated by Pt Sheshgiri Hangal and Pt Ravindra Yavagal on behalf of the prestigious Shri Ram Kala Vedike organization in Bangalore and also conferred the title of "Acharya".
MOVING TO USA
In 2007, he moved to the United States to be with his family but not before handing his students over to competent teachers in Bangalore such as Pt Ravindra Yavagal. After moving to the USA, Guruji established his school "Guru Krupa Music Academy". As both Guruji and Guruma contemplated on the name for the school, I suggested: "Guru Krupa" drawing inspiration from the name of their house in Bangalore.
Traditional teaching methodologies have some inadequacies. While the Peshkara, Qaida, Rela, Gath and other compositions are taught in detail, learning accompaniment is typically left for the student to pick up by observing the teacher and other artists. Guruji felt that there is an absolute need to incorporate material related to accompaniment in the syllabus. Then, the student would be on the firmer ground especially when it came to uncommon Taals of 9, 11, 13 or 15 matras. This thought process led to the birth of the three-ring concept of building Tihaais presented in the book "TIHAAI" that he coauthored with me. This allows students to play material in those taals comfortably within the first 4 or 5 years of learning. I consider this his seminal contribution to the field.
THE NEXT GENERATION
Today among his students, eleven-year-old Amrit Singh stands out. Guruji has developed Amrit into a keen Tabla player able to deliver commendably in most of the important departments of Tabla including performing solo for many odd-matra taals. Guruji feels that this little boy has great potential for achieving prominence in the field of Tabla.
THE OPTIMIST
Guruji is a die-hard optimist. I still remember how he made me write on Page One of my first Tabla notebook "Never have fear of failure. Always have hope for success".
It is a mantra I have come to adopt and recommend to other students of Tabla. Life has thrown him a curve ball many times and I have only seen him rebuild with a smile. Guruma too has always stood by offering rock-solid support at each step. At nearly eighty years, Guruji is still brimming with fresh ideas and approaches to make learning and teaching experiences for Tabla better.
CULMINATING THOUGHTS
The world will continue to know Guruji as a teacher a class apart and I know that he will continue to share his contributions to the world. He will continue to remain pushy when it comes to urging students to do more practice but not when it comes to pushing his own interests. As someone who has heard the legendary masters live, he will continue to be the connector to our glorious past. He will continue to remain an inspiration for generations of students. And he will continue to be my Guru.
Even if I could live my life all over again, I know I would go back to him once again as my Tabla teacher because, simply put, he will always remain My Better Bet.
---
About Author: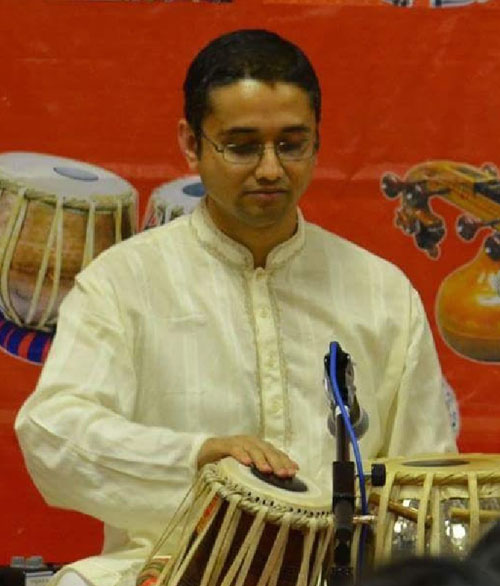 Sandeep Hattangady has pursued Tabla for more than two decades, learning from eminent Tabla Gurus including Shri Prabhakar Betrabet, Ustad Shabbir Nisar and Pt Mohan Balvalli. He has performed widely in India and the United States, playing both solo and accompanying artists such as Pt K Sridhar, Shri Anirban Dasgupta, and Dr. M Narmadha among others.
Based in Morrisville, Sandeep balances his musical interest in performing and teaching Tabla alongside his professional pursuits working as an electrical engineer in the semiconductor industry. He has co-authored the book, TIHAAI, with his Guru Shri Prabhakar Betrabet for students of Tabla and music.