Parampara Series to feature eminent musicians and dancers in Delhi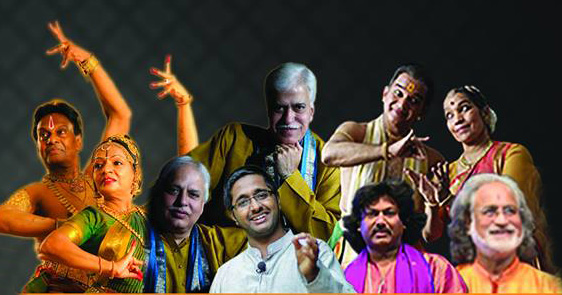 Taking forward the annual ritual of organizing the 'Parampara Series' – National Festival of Music and Dance in the capital city of India,  Natya Tarangini and Dr(s). Raja Radha Reddy and Kaushalya Reddy are showcasing the Parampara Series – 2018 from 10th – 12th of August, 2018.
Natya Tarangini has been successfully spreading quality art among its audience through its annually organised National festival of Music and Dance titled 'Parampara'. Under this series, Natya Tarangini has presented various stalwarts as well as young talents.
The festival has featured legendary artists such as Pt. Hari Prasad Chaurasia, Ustad Amjad Ali Khan, Dr. Balamuralikrishna, Pt. Shivkumar Sharma, Birju Maharaj, Kelucharan Mahopatra, Vyjayanthimala Bali, Smt Kishori Amonkar, Mrinalini Sarabai, Astad Deboo, Shubha Mudgal and many more.
This year the festival will represent some of the most successful dance productions of recent times in addition to the musical concerts by legendary artists.  As has been the tradition, the audience of Parampara Series will witness two concerts every evening (Dance and Music).
Raja Radha Reddy
Drs. Raja and Radha Reddy, the World  Renowned Kuchipudi Dancing  couple, dedicated their life to take the pride of Telugu  land onto the cultural map of the world. Raja Radha Reddy's sensibilities of choreography  and presentation are unparalleled. They have brought a modern sensibility to  the age old art of  Kuchipudi without sacrificing its  traditional grammar.
Vishwa Mohan Bhatt & Manganiar Group
Pt. Vishwa Mohan Bhatt is one of the few greatest musicians of our times who have contributed immensely to popularize the Indian Classical Music all across the globe. His contribution is more significant as he has created a new instrument Mohan-Veena having the elements of 'gayki' and ' tantrakari ' making it unique.
Pt. Bhatt will be performing along with his Son, Salil Bhatt who is creator of 'Satvik Veena' and the first musician to get Canadian Grammy nomination and Anwar Khan Manganiyar the Folk music Icon of Rajasthan. He has been awarded with the central Sangeet Natak Academy award recently, has travelled in a dozen countries all over the world.
Dhananjayans
The Padmabhushan Awardees, The Dhananjayans (Shanta and Dhananjayan) are international celebrities with almost six decades  in the field of performing Arts of Bhaarat.  With innumerable performances to their credit, covering a global spectrum, this made for each other couple is a beacon light icon to generations to come.  Immaculate communicators through their exemplary performances all over the world, they bring credit to the Nation by propagation and preservation of the art and culture of Bhaarat.
Abhishek Raghuram
Abhishek Raghuram is one of the most sought after Carnatic Vocalist with his two decades of performing experience.  With his virtuosity and asthetics, he has created a new genre in his field of music that according to the critics is foot for the intellect, mind and soul.
Pandit  Rajan & Pandit Sajan Misra
The inimitable duo of Indian Classical music Pt. Rajan & Pt. Sajan Misra do not need any introduction for the Indian music lovers. Their music takes you from the tangible earthiness of Banaras, to the intangible grandeur of the ragas. Their mellifluous voice conveys the aesthetics of music in a lucid earthy manner, combined with masterly command over the techniques.  They are one of the top most Indian Classical Vocalists today, with a distinguished lineage.
Uma Dogra
Uma Dogra is a Kathak Exponent from Mumbai and awarded with Sangeet Natak Akademi award last year.
Date: 10 – 12 August, 2018
Time: 7 pm to 10 pm
Venue: Kamani Auditorium, Copernicus Marg, New Delhi
Grab your FREE e-passes HERE