Margam Festival: A spectacular dance fiesta of all genres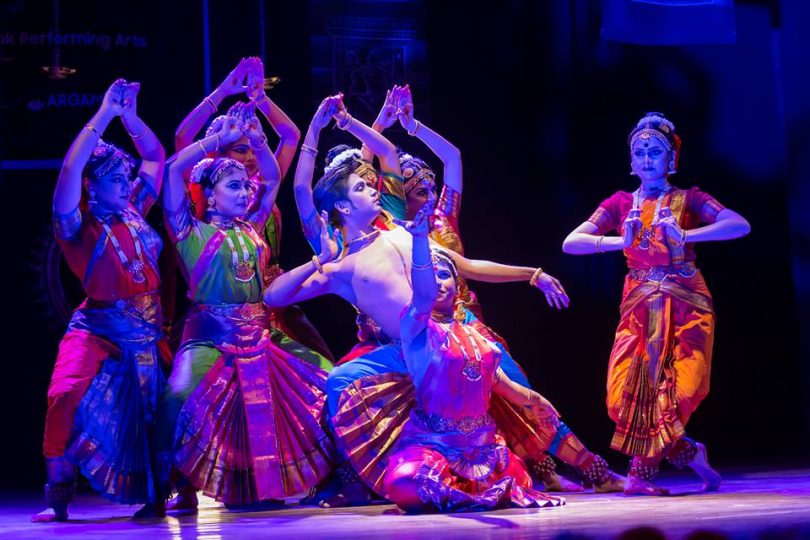 For six consecutive years, Udok Performing Arts under Rajib Saha and Moumita Chatterjee have been holding their Margam Festival. The uniqueness of this festival is that although both Rajib and Moumita are Bharatanatyam performers, they provide a platform for all genres of Classical Dance. This year Margam Festival was held for two days at Gyan Manch.
The festival is truly poised to become one of the major festivals of the country. Among the few things that need to be paid attention to, is that the organizers have to insist that dancers have to have original music for their dance. Rules nowadays are more relaxed than they used to be. Recorded music has now become the norm because it is more cost effective. But let that not degenerate into using music that recognizably belongs to another performer.
Also, it is not right to give a platform to the students along with veterans, because they do not match into the scheme of things.
An actor with a passion for Bharatnatyam, Jaya Seal Ghosh performed Navarasa Mohana, a choreographic work of her present mentor,  SNA awardee Rama Vaidyanathan, to a jam-packed hall. Endowed with a natural acting talent, suitably honed, the choice of the item could not have been better. This gave her the scope to use her emotive power, to her advantage. Taking episodes from the life of Krishna the nine emotions were portrayed effectively. Enactment of the thunder and lightning like the strength of wrestlers as opposed to the feeling of wonder among the common folks seeing the dynamism of the boy Krishna; the love dalliance of Krishna with the cow herders and the final submission to Param Brahma –the supernatural being, had a great deal of realism. Rich jati compositions gave the dance its fullness. Jaya has traversed a long path and is poised for more.
Bharatanatyam dancer Pankaj Singha Roy's Ardhanariswar Ashtakam by Adi Shankaracharya again was a choreographic work of Rama Vaidyanathan. A verse written by Kalidasa, which says Parvati and Shiva are as inseparable as a word from its meaning preceded Adi Shankarachariya Stotra. The depiction of inseparable male and female in one body, showing the unity of opposites in the universe harmonizing the conflicting ways of life thoroughly explained in the vocabulary of Bharatanatyam using a modern idiom, while remaining true to its roots, spoke volumes about the choreographer and the performing artist did justice.
Adi Shankaracharya's Ardhanariswar Shloka was a hot favourite of the Margam season. Odissi practitioners, Shibnarayan Banerjee and Neelanjana Mukherjee, both students of Ratikant Mohapatra, rendered "Champeya Gourardha Sareera Kayayi"-a choreographic and music composition of Kelucharan Mohapatra and Raghunath Panigrahi respectively- bowing down to Ardhanariswar much to everyone's satisfaction.
Dedicated Bharatanatyam performer Moumita Chatterjee, a disciple of Kalamandalam Thankamani Kutty regaled the audience with Mukta Tandava in her guru's style. Her offerings to the rasikas were Maharaja Swati Tirunal's Gopalak  Pahimam Anisham –asking Krishna for protection-and Shankara Sri Giri Nath Prabhu-proclaiming to the world that Shiva dwells in the heart of Lord Padmanabha. The bhavas were mimed and emoted with devotion.
Kathak dancer Ashimbandhu Bhattacharjee collaborated with Bharatanatyam performer Anita Mullick to celebrate the vibrancy of the human spirit. Their objective of showcasing that the human beings are made of the five elements along with their five senses of touch, smell, hear, taste and sight and that they are the children of the firmament and the nether world, was lapped up instantly by the audience.
Vilambit teen tal exhibiting the different elements of Kathak like upaj, thaat, amad, tukra tora in both Jaipur and Lucknow style was presented by Bhattacharjee, before embarking on Krishna Anubhava followed by mukti, beautifully crafted with a Tulsidas Bhajan on Rama with inputs from the story of Ramayana. Haradhanu Bhanga; Ahalaya uddhar; Sabari Mokhsam; Marich Badham; Setu Bandhan and Ravana Mokhsa were dramatized with masterly strokes of Choreography by Bhattacharjee. Ramkatha was visualized vividly through two classical dance styles from the Sahitya of Tulsi Das. Love's motivations and indecisions; its triumphs and delusions; with its inherent lies and the truths were honestly portrayed. Krishna's role as an eternal lover for the seeker was etched remarkably. The piece was philosophical that raised one to realms where Krishna dwells. The message that Krishna is in every creature and exists in both the beholder and the beholden; He is within and without and therefore the need to cleanse ourselves; the need for everyone to return to Tulsidas was marvellously portrayed through this piece. To bathe in the inundating mellifluous flow of Sree Rama Katha included Rama, the playful child; ever courageous; the challenger who dared to lift effortlessly the mighty Haradhanu; the loving husband; the doting brother; the indomitable warlord; the upholder of justice was a spectacle. Anita and Ashimbandhu (brought it alive through their stage presence and live music supported by – Vocalists K G Prasad and Sri Debashis Samrat, mridangist Shankar Narayanaswamy, tabla player Sri Biswajit Pal, flautist Rupak Mukherji, Sitarist Chandrachur Bhattacharji and Natuvanars Kabita Chatterji and Dipan Moitra. Ranjani Bhattacharjee recited the bol padhants.
Srimayi Vempati, disciple and daughter-in-law of Guru Vempati Chinna Satyam made her mark as a refined Kuchipudi dancer in the Margam Festival. Her first number was an Astapadi from Jayadeva's Gita Govinda, "Rase Hari Riha Vihita Vilasam". Very tellingly she portrayed the allegory of Radha's love dalliance with Krishna, and her subsequent remorse and anger on seeing her beloved Krishna in passionate embraces with the other gopis. Srimayi brought home the realization that Poet Jaydeva has, in his astapadis, shown that Krishna is for all mankind and not only for Radha. Had she been ready to be united with the great soul, that realization would have dawned on her. Subsequently, of course, you find an Astapadi where the individual soul of Radha merges with the supernatural soul of Krishna. Srimayi was amply successful in bringing out the allegory of a song that merely appears to be a plain and simple physical love song. The beauty of Krishna's curly locks and dark complexioned body in sharp contrast to the brilliant lustre of his jewellery was described beautifully.
Bhakti Saint Thyagaraja's Jagadananda Garaka in ragam Natai and talam Adi was a stuti on Rama, an incarnation of Vishnu. Translating Suryavanshi king Rama's qualities in Kuchipudi style required the kind of grit Srimayi has made her own, through her years of being a practitioner of Kuchipudi. The piece itself was full of the miracles performed by Vishnu in all his incarnations and his qualities when he incarnated as Ramachandra in Treta Yuga, emoted by the performer with a great deal of ease, developed meticulously.
The presentation of Bharatanatyam performer/ teacher/scholar  Parshwanath S. Upadhye was a treat to the audience. Dancer par excellence, Parswanath received a standing ovation from the audience at Kolkata proving, "A thing of beauty is a joy forever".