Fanning the Art
Fans are definitely important. Artists need them for their sustenance. It is important that artists do their bit to help them strengthen their bond with the music and the subject.
So, the Tabla solo performance is nearing to commence… The ambience is rooted with excitement as the audience sits in anticipation of the sweet sounds of the Tabla to bring the complete to their ears. The soloist tonight is a player of high repute and this is a concert that people have waited many months in advance to attend!
The concert begins with a brief Alap in the raga Saraswati on the Sarangi which soon gives way to the Nagma in Teentaal. The Tabla player joins in before the Sam, meandering around the beats before ultimately landing on the Sam & compelling the audience to give out a collective wah. A few minutes later, as the Peshkar travels on, an enthusiastic student from the front seat pulls out his smartphone and clicks some photographs of the artist in a candid pose. "Guruji .. I love him!" he expresses to a fellow audience member
before he slips his phone back into his pocket. Twenty minutes later, as the artist is presenting an Ajrada Kaida which tests the control over the Dagga, the enthusiastic student pulls out his phone again to click some more pictures… clearly, he is excited! Little does this eager student realise that during one of the moments, the student is so busy capturing a candid pose that he completely misses a vital "aha" moment. As the audience gasps in wonder, the student suddenly realizes he has missed something important. The lost expression on his face as he looks around says it all. A minute later though, he is beaming to himself, feeling rather content and satisfied.
At the end of the concert, I approach the student and ask him to show me some of the pictures he captured. He pulls up a popular social media app on his phone and shows the photos he has uploaded on to a Tabla group. In less than an hour since his post, it has received a large amount of attention from group members, accumulating more than 100 Likes and 30 Comments replete with "
" and "
" emoticons.
Fascinated as I am by this, later that night, I join the same group on social media with the hope of gaining new insights through the posts.
As I scroll through the group posts, I come across a very senior musician's post attempting to stimulate an intellectual debate on a knotty topic in Tabla. I am astonished to see that it has only 6 Likes and 4 Comments! Moreover, among the comments, while one is not even relevant to the post, the others simply say "".
Eager to see what type of posts draw the most attention in the form of Likes and Comments, I begin scouring the group posts and before long, I have my drawn my conclusions! Let's go about it in reverse order.
The Third prize for the most attention and participation by members of the group goes to posts bearing conversations on difficult topics in Tabla and discussions with critical thought.
The Second prize goes to individual posts by enthusiastic student-members who want to showcase their Riyaz (as they label it).
The First prize, of course, goes to… hold your breath… photos of artists put up by people, not even remotely related to them! In fact, many of these images are pilfered from the Instagram accounts of these very artists and some cases, the artists directly state that they are not connected in any way to those who post them. Conveniently though, the following posts of similar nature continue to garner the same or even more attention from group members!
What explains this mass urge among followers of Tabla to bestow attention in the form of Likes and Comments on pilfered content? What is the fascination that we have with photos of artists we consider celebrities?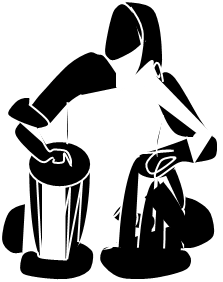 On the face of it, media such as photos and videos of popular artists seem to be a mere shade of the real thing. In reality, however, it can make our attachment to an artist grow in intensity just as it would if we were meeting them every day. Exposure to such media on a daily basis can make our brain become totally incapable of distinguishing between the two experiences and make them both seem equally real. Everyone's journey in Tabla primarily begins with being inspired by a Pandit or an Ustad and idolizing them. So, our perspective about them is already biased from the beginning.
When we are exposed to media relating to the artist, it transforms our perception into something more meaningful and powerful, as it relates to the phase of life that we are in.
For example, if I am an adolescent facing an identity crisis, watching the media might transform my perception of the artist and make me view him or her as a role model to emulate. As a young adult, I might bunch up with peers who also admire the artist and discover a sense of connection and belonging with them.
Consequently, I might share such media more with my peers and even get into collecting artefacts related to the artist. As a middle-aged person, I might admire the artist in the photos for achieving the dream that was unfulfilled in my own case. I may or may not be attached to a specific artist, but I may always bestow gratitude on the artists generally for showcasing their art form and helping preserve the cultural heritage for the next generation.
As a professional musician, I might give attention to such media as a mark of respect other and for networking. Besides these, familiarity with or pure attraction to the artist will always compel everyone to bestow attention to the media. For all these different reasons, it seems as if a wide spread of people on social media will, at the very minimum, acknowledge these photos and videos through their Likes and Comments. This is an advantage the other types of posts do not share and this explains the comparatively lower attention they receive.
However, hovering in the space of subjective personal feelings irrespective of whether for networking or to fill a void in our own lives, the striking commonality among all of these explanations is that almost none of these actually tie back strongly to the actual love for the subject of Tabla. They definitely tie back to the artist but not the art itself. And when someone is completely sold on an artist and yet is strongly disconnected from the subject, they tend to lose their ability to think critically and analyse objectively. An appropriate term to refer to such people then changes from student to fan because even a simple normally-rendered syllable on the instrument can make them experience bliss and make them break into standing applause.
Gather a few scores of such fans in a performance hall and you can't miss it when, soon enough, the applause will become biased towards a select artist. Today, calling oneself a fan of an artist is perceived as a matter of great pride. But if that person is a student, it is anything but that! True appreciation of a Tabla artist lies not in appreciating their hairstyle, facial features and expressions or imagined qualities, but in understanding their music keenly.
Fans are definitely important. Artists need them for their sustenance. While in the end, the responsibility for self-improvement rests with the fans themselves, it is equally important that artists also do their bit to sensitize them about elevating themselves by thinking critically and help strengthen their bond with the music and the subject. An artist whose entourage is intelligent and understands the music in depth deserves a lot of respect. Artists who let their fans worship them or even feed the frenzy with more media commit gross injustice towards them. They essentially leave the fans more and more engrossed in their own perceived reality, stop them from growing and ultimately disconnect them from the beautiful world of music.
The artist who performed today is performing again in the neighbouring city tomorrow. I love the artist not only for his music but also his charismatic presentation and I know that I will attend that performance too. In my heart, I know that I will run into the same student who I met today and for his sake, I can't wish more sincerely that he kept his phone aside and engaged directly with the music showcased by his idol.
---
About Author: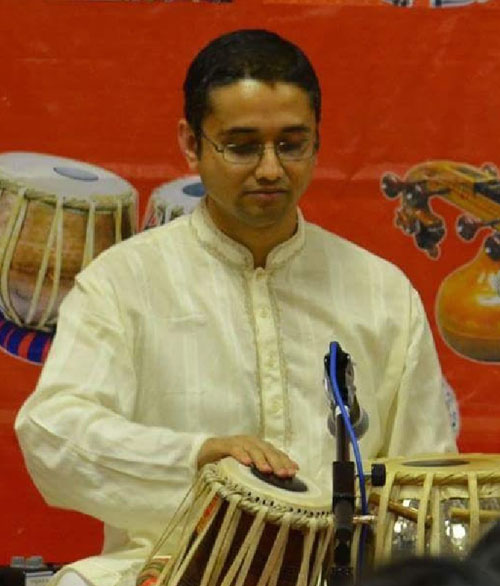 Sandeep Hattangady has pursued Tabla for more than two decades, learning from eminent Tabla Gurus including Shri Prabhakar Betrabet, Ustad Shabbir Nisar and Pt Mohan Balvalli. He has performed widely in India and the United States, playing both solo and accompanying artists such as Pt K Sridhar, Shri Anirban Dasgupta, and Dr. M Narmadha among others.
Based in Morrisville, Sandeep balances his musical interest in performing and teaching Tabla alongside his professional pursuits working as an electrical engineer in the semiconductor industry. He has co-authored the book, TIHAAI, with his Guru Shri Prabhakar Betrabet for students of Tabla and music.