The 14th edition of Pt. Jitendra Abhisheki Music Festival will be organised on September 29 and 30 in Goa jointly by Kala Academy and Tarangini Saunskrutik Pratisthan.
A concept of Tarangini Sanskrutik Pratishthan, this festival is a tribute to the versatile genius late Pt. Jitendra Abhisheki who hailed from the temple town of Mangeshi in Goa. The event also witnesses a congregation of several disciples of Panditji, who have carved out a niche for themselves in the field of Indian classical music.
According to Pt. Hemant Pendse, Chief Trustee of Tarangini Saunskrutik Pratisthan, this year too, internationally commended artists will play a musical tribute to the versatile genius along with renowned artists from Goa.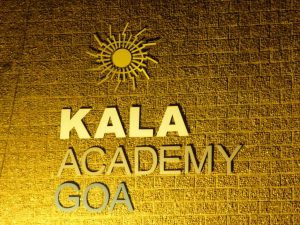 While addressing a press conference at Kala Academy along with Kala Academy officials Dr. D. L. Amonkar and Pradeep Gaonkar, Pt. Pendse said, "The Pt. Jitendra Abhisheki Music Festival provides an opportunity to the music-lovers of Goa to listen to Indian Classic Music. The response of the audience seems to grow every year and the music-lovers of Goa await ths music festival."
This year sixteen artists including senior disciples of Pt Jitendra Abhisheki namely Shubha Mudgal, Devaki Pandit, Hemant Pendse will offer their musical homage to the versatile Guru. Artists from Goa Subhash Parwar and Naresh Madgaonkar will present a Vocal Classical music and Santoor recital respectively.
"Among the young vocalists Gayatri Joshi, Meeta Pandit, Manu Shrivastav, Ravindra Parchure, Damodar Rao, Shakir Khan (Sitar), Asawari Patankar (Kathak.), Amarendra Dhaneshwar, , Milind-Yadnesh Raikar (Violin Duo), Ragunandan Panshikar, Wishwanath Kanhere (Harmonium) will prove to be enchanting experience to the listeners," Pt. Pendse said.
Leading accompanists like Aneesh Pradhan, Subhash Kamat, Sudhir Nayak, Ajiky Joshi will add to the melody of the festival. Reputed musicians from Goa, Mayank Bedekar, Raya Korgaonkar, Dayesh Kosambe, Tulshidas Navelkar, Chimay Kolhatkar, Vithhal Kandolkar, Dattaraj Suralkar, Dattaraj Mhashi, Amar Mopkar, Subhash Phatarekar, Rohidas Parab, Satish Madgaonkar will also be accompanying.
The festival will be held at Dinanath Mangeshkar Kala Mandir, Kala Academy Complex, Panaji, Goa from 10 am to 10 pm on 29th and 30th September, 2018.